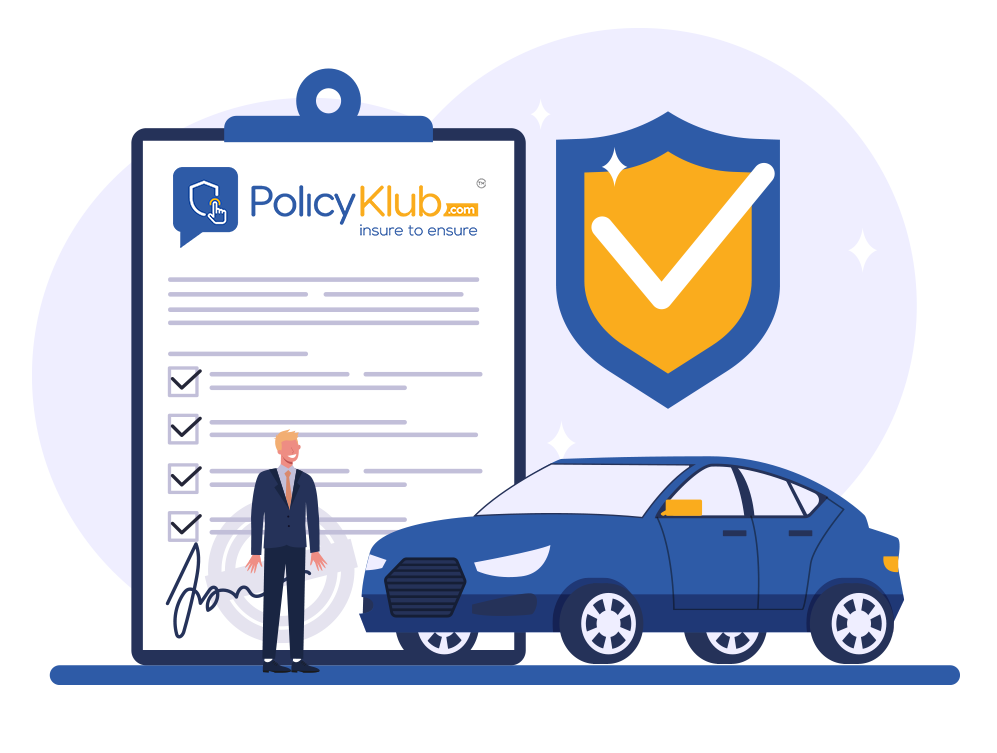 Understanding what Car Insurance is quite easy! Some people misunderstand car insurance as an investment but it is not exactly an investment as it doesn't yield any returns like a fixed deposit or a mutual fund.

Yet it is an important part of your financial plan as it is a contract between you and the insurance company to protect you against any financial loss or damages against your car or third-party liability.

Basically, it provides a financial blanket over you and your vehicle against damages like accidents, fires, natural calamities, thefts, and many others as well as for any injury that might occur to you.

Car insurance is like risk-sharing where you pay some premium to an insurance company and in return it promises to pay for your car repairs as per the terms and conditions of the policy.

That is why, before choosing any car insurance policy, it is necessary to compare the premium offered by the various insurance companies to get the best deal possible. The premium offered depends on the make and value of the car, the state from where it is registered, and the manufacturing year.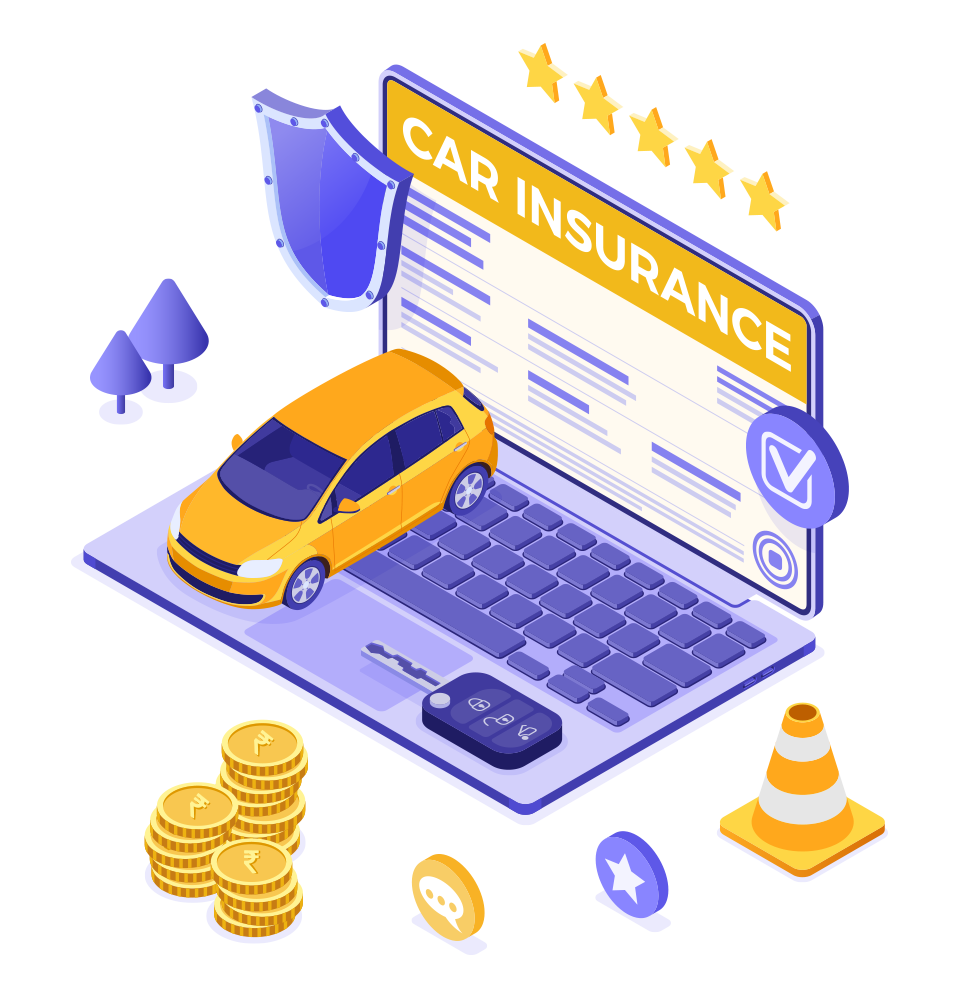 WHY DO YOU NEED
CAR INSURANCE IN INDIA?
In India, and all over the world, getting car insurance has been made compulsory by the government. ​According to the Motor Vehicles Act, 1988 each vehicle on Indian road should carry a valid insurance policy on it to run legally. If the vehicle is not covered by insurance and caught, the owner will have to face penalties in the form of fines and even imprisonment in extreme cases.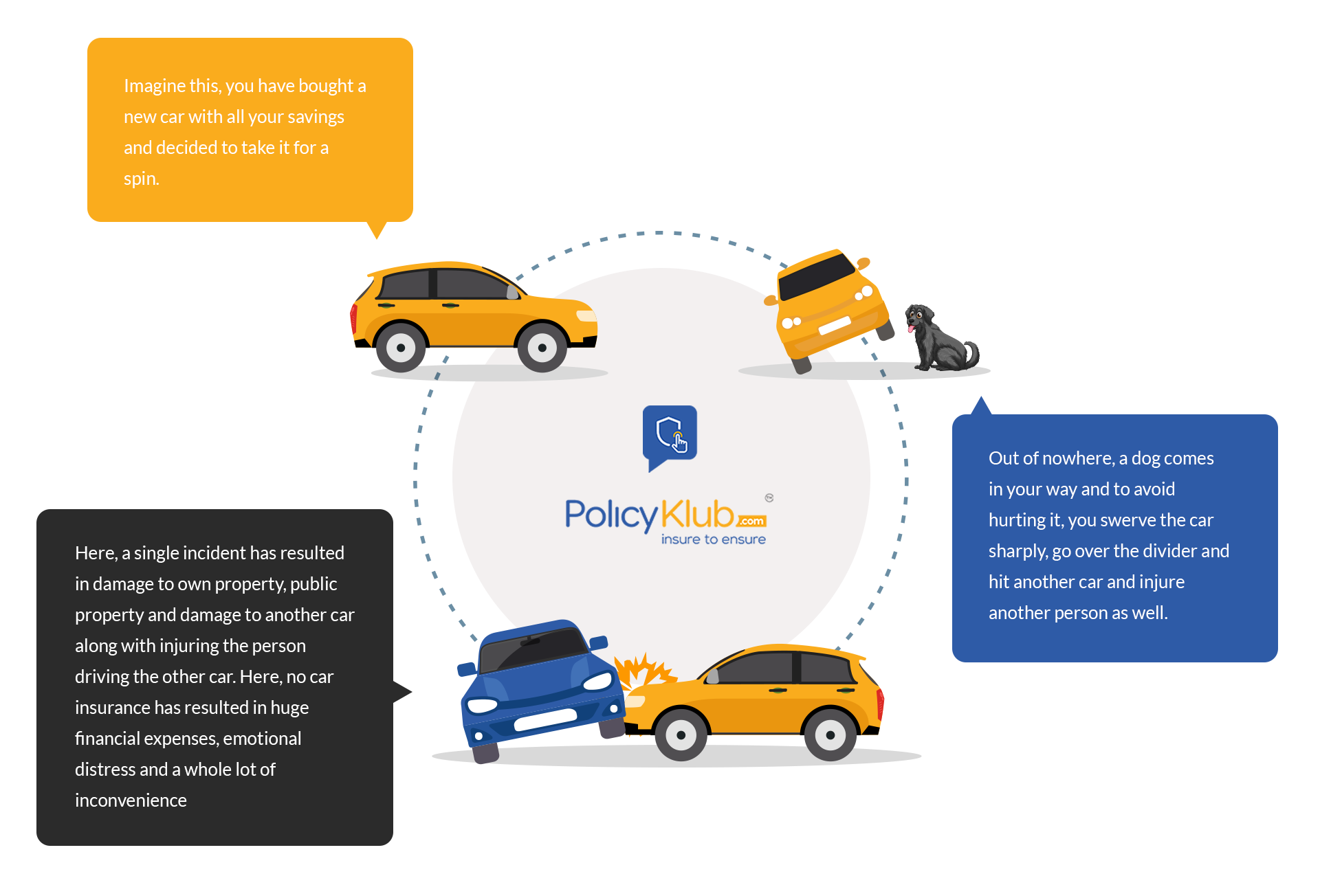 Not only that, but there are high chances of loss due to theft, damages due to fire, natural calamities and other losses which can cost you a lot of trouble.
That is why you need to buy your car policy from PolicyKlub.com to provide a financial cover over you and protect you from such unexpected losses and damages
so that you can live a hassle-free life!

BENEFITS OF HAVING A
CAR INSURANCE

Coverage against any loss or damage caused to the insured vehicle

Coverage against any loss or damage due to natural calamities.

Coverage against third-party liability

Coverage against any loss or damage caused by accidents, fire, theft, explosions, terrorist activities, riots or self-ignition.

Personal Accident Cover

ZERO DEPRECIATION COVER

ENGINE PROTECTION COVER
NO CLAIM BONUS PROTECTION COVER

RETURN TO INVOICE COVER

ROADSIDE ASSISTANCE COVER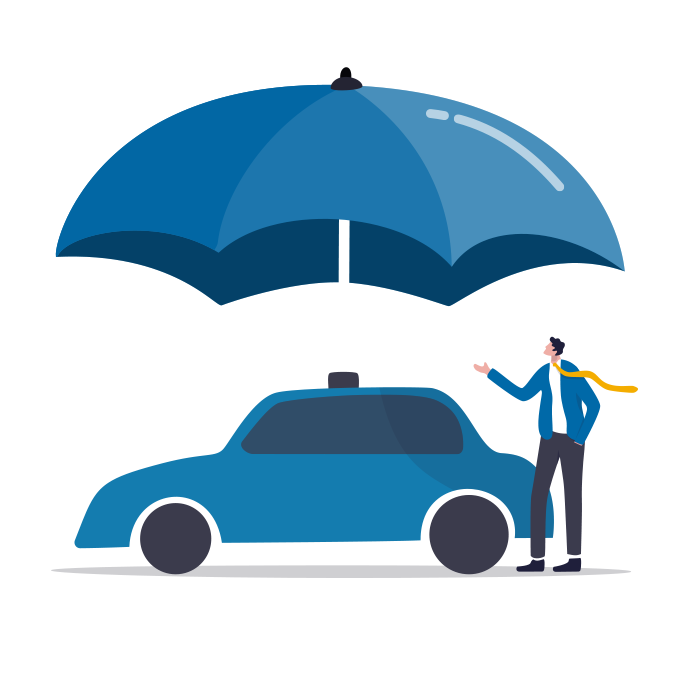 PASSENGER COVER

TYRE PROTECTION COVER

CONSUMABLE COVER

VEHICLE REPLACEMENT

EXTERNAL CNG KIT
WHY IS POLICYKLUB
YOUR ONE STOP SOLUTION TO GET INSURED ONLINE?
EASY ACQUISITION OF POLICY
What would you choose - buying a car insurance policy from an agent or an insurance company after long hours of waiting in a queue OR buying a car insurance with just one click from your smart- phone without any difficulties? Purchasing a car insurance from PolicyKlub.com makes it convenient to buy car insurance and saves your time as it gives you the option of purchasing it at any time you want.
EASY COMPARISON FOR THE RIGHT DEAL
Gone are the tedious days of confusing research and going from office to office to compare and get the right deal. No need to be dependent anymore! You can compare various deals on PolicyKlub.com from different insurance companies, understand the features of the policy, compare premiums and choose the policy that suits you the best, at home, without any doubt or confusion!
NO PAPERWORK
With Policyklub.com, you don't have to worry about filling up a long hand-written form or submitting numerous documents. No worries of messing it up and starting all over again! With the online insurance you get the convenience of only filling out important details in a short form that will take you directly to the purchase button on submission of the form.
CREDIBLE INSURER CHECK
In the Digital Era, you can easily check the insurance company on PolicyKlub.com, whose policy you like the most and you can also go through its respective social media handle to get a proper idea about the credibility of the company.
QUICK RECEIPT OF POLICY
With the purchase from PolicyKlub.com, you get your car insurance quickly. When you purchase an insurance, the details of that insurance will be emailed to you on your registered email-id's inbox as soon as the online payment for the insurance has been processed.
HOW TO SAVE ON
CAR INSURANCE PREMIUM
Compare Policies​: Before buying any car, you take the time to compare the different makes and models because this is a long-term commitment and you have to make sure you choose what is best for you. Similarly, when planning to get your car insured, you have to take out time to compare different insurance policies as with different policies comes different benefits and premiums. Comparing will give you an idea about what works the best for you and help you save money!
Only Pay for What You Need​: When you buy a car policy for your vehicle, make sure you pay for the features and add-ons that are required by you rather than opting and paying for add-ons that are of no use to you.
Declare the Correct IDV​: Insured Declared Value (IDV) is the maximum price that the insurers will pay you if in the event of theft or complete damage to your vehicle. This value will be the original market price of the vehicle after deducting depreciation.
Increase Voluntary Deductibles​: One way to reduce your auto-insurance premium is to increase the voluntary deductible component. This deductible refers to the amount that you agree to pay towards your repairs or claims before the policy covers the remaining amount. This option is provided at the start of your policy. The higher you choose the value of deductible to be, the premium will decrease by a specified percentage. But, it must be kept in mind to only pay as much you can afford. If you pay too much, it beats the purpose of having insurance in the first place.
Install Anti-Theft Devices​: Most of the new vehicles are already equipped with safety features but unfortunately, the older cars are not. Vehicles that are equipped with anti-theft features like gear lock, steering lock, anti-theft alarm, etc have generally low premiums. Installing additional safety features to older cars can reduce your annual insurance premium by 5%.
Transfer Your Bonus​: It is important to remember that the No Claim Bonus (NCB) is linked to the policyholder and not to the vehicle insured. If you are planning to buy a new car then you can , then you get the benefit of transferring your accumulated bonus from your old policy to the new car that you buy. You can inform the insurance company about the need to transfer the bonus and they will provide you with a certificate that will help in the transfer.

In case, if you are not planning to buy a new car immediately after selling the old car, then you have the option of reserving this bonus for the next 3 years as this is how long it takes for NCB's to be transferred on termination of motor insurance policy.
Don't Make Claims for Small Sums​: If you buy an auto-insurance and don't make a claim, then you are entitled to a No Claim Bonus (NCB), for every claim-free year. If you don't make claims for consecutive years, you can accumulate the NCB, which allows your premium to get discounted to as low as 50%. So, it is smart to not make small and unnecessary claims for small issues like a broken side mirror. As a matter of fact, there is a high possibility that the local mechanic might be able to fix it at a much reasonable price.
WHAT IS INCLUDED AND EXCLUDED
IN CAR INSURANCE POLICY.
| | THIRD-PARTY | COMPREHENSIVE |
| --- | --- | --- |
| Damages/Loss to own car due to an accident | | |
| Damages/Loss to own car in case of Fire/Theft/Riots/etc | | |
| Damages/Loss to own car due to natural calamities | | |
| Theft of Your Car | | |
| Personal Accident Cover | | |
| Damages to Third-Party Vehicle | | |
| Damages to Third-Party Property | | |
| Injuries/Death of Third-Party Person | | |
| Doorstep Pickup and Drop | | |
| Customize your IDV | | |
| Extra protection with customized add-ons | | |
If due to any unfortunate event, you have to file a claim, depending on the type of insurance you have taken the following documents and procedure will be required.For claims to be accepted, your policy should be in force and the insurance cover of the vehicle should be valid.
DOCUMENTS REQUIRED FOR PRIVATE CAR INSURANCE CLAIM
Claim Form
Valid Driving License
Registration Certificate Book
Police Report (F.I.R/ Spot survey if T.P.)
Fitness Certificate/ PUC for commercial vehicles
Insurance Policy Document and Endorsement
FILING FOR CLAIM IN CASE OF DAMAGE TO PRIVATE CAR
Inform the insurance company on their toll-free number.
Submit a claim with a duly signed Claim Form.
Keep a duplicate of your Valid Driving License, RC book, Policy Document Ready.
A surveyor will be assigned for inspection.
Police report, if required. (Kindly list the contact details and vehicle number of people involved in the accident).
Original Repair Estimate Bill
In the case of cashless service, only Invoice receipt.
In the case of a refund provide the estimate bill, original invoice, and payment receipt.
WHEN CAN YOU NOT
MAKE A CLAIM?
When you decide to get your car insured, it is because you want to be sure that if any damage/loss happens to your car, it is covered and you won't be stuck in a financial liability as well as under a lot of stress.You are already aware of the list of things for which you can make a claim but as a customer you must also know for what reasons you cannot make a claim or your claim might get rejected.